How to help us?

Dear colleagues! JURASSIC.RU project has being developing for more than four years and we hope that it does help the scientific community in its research all over the world. We're often asked how is it possible to help us. You may help Jurassic.ru Team to develop the resource by several ways::

- please choose the most suitable and simple way for you :)
---
¹ 1 - Informational Support:
Sending us useful information and materials for placing them at JURASSIC.RU. For example:
- interesting News connected with Jurassic research and researchers all over the world;
- links to open access periodicals and online libraries;
- announcements; Circulars of forthcoming events for their deployment at JURASSIC.RU Forums;
- and, of course, PDF-versions of publications are always much welcomed :)!
Single articles can be sent directly to our Email: jurassic.ru@gmail.com. If your files are too large (>10 Mb), do not worry: there are a lot of internet-services for sending large files. In this case please pack your files in Archives (up to 250 Mb!) and then use rapidshare.de service. An illustrated step-by-step instruction is given below:
1) open the site rapidshare.de
2) press the button "Search..." right to the grey string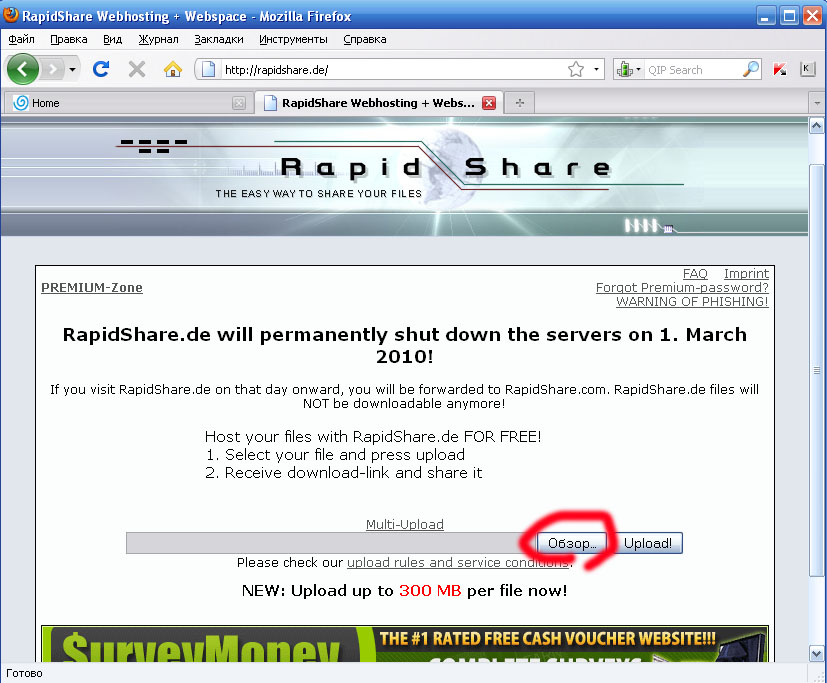 3) select the file (or file archive) you wish to send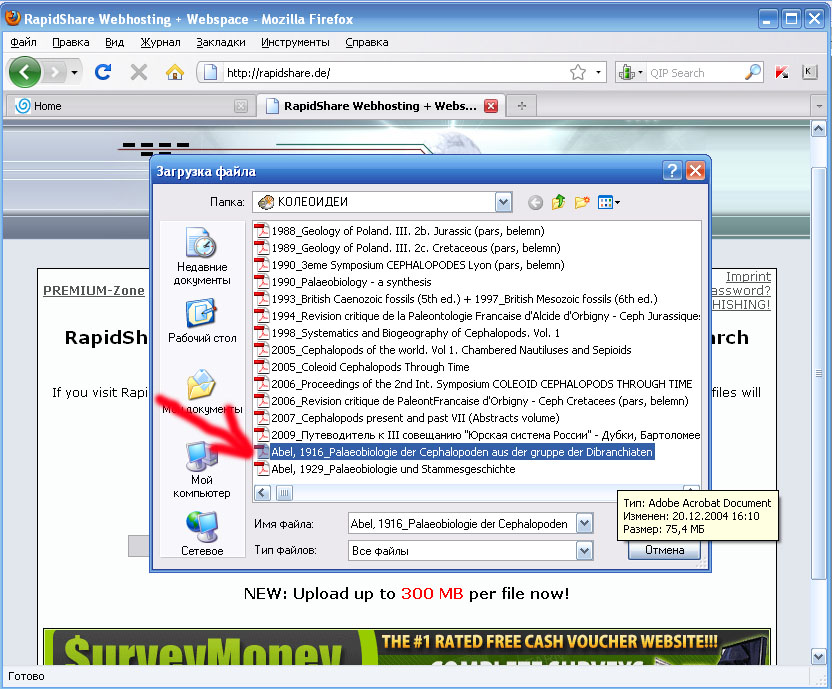 4) press the "Upload!" button.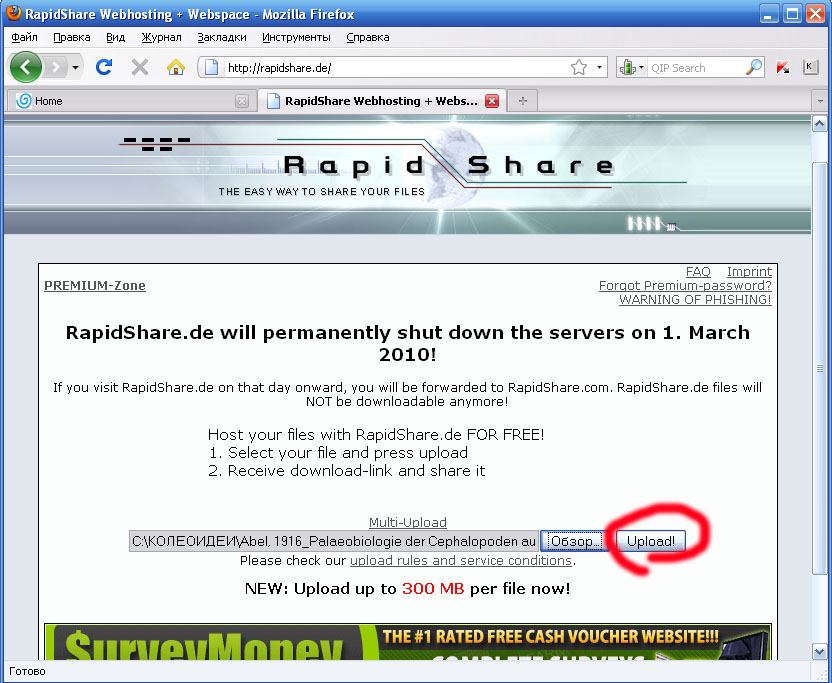 a window with progress bar will appear: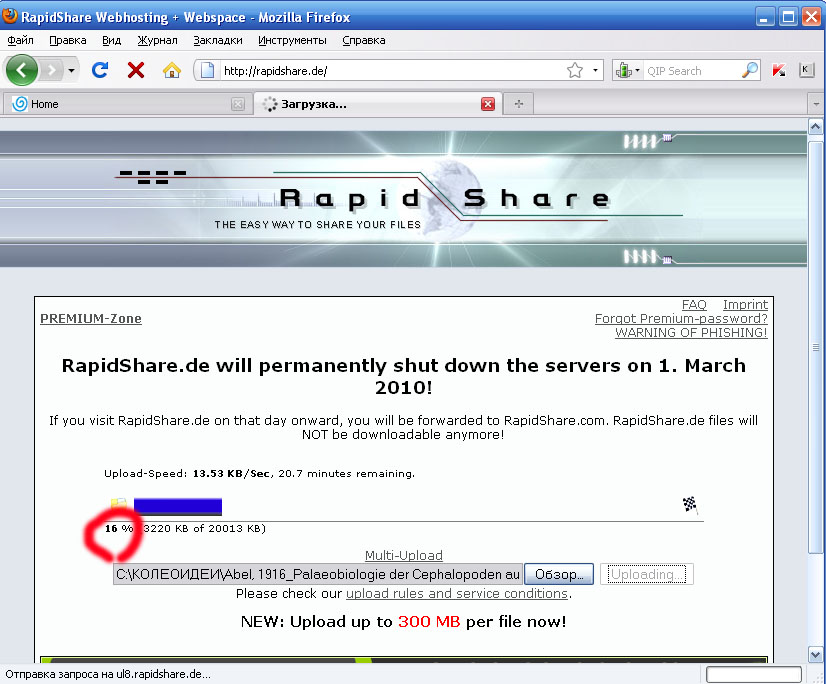 5) Upload will take some time depending on the size of files and your Internet connection speed. Please wait until the uploading will be completed. While uploading, you may minimize browser window and use the computer in other way you like.
After finishing the uploading a new window will appear: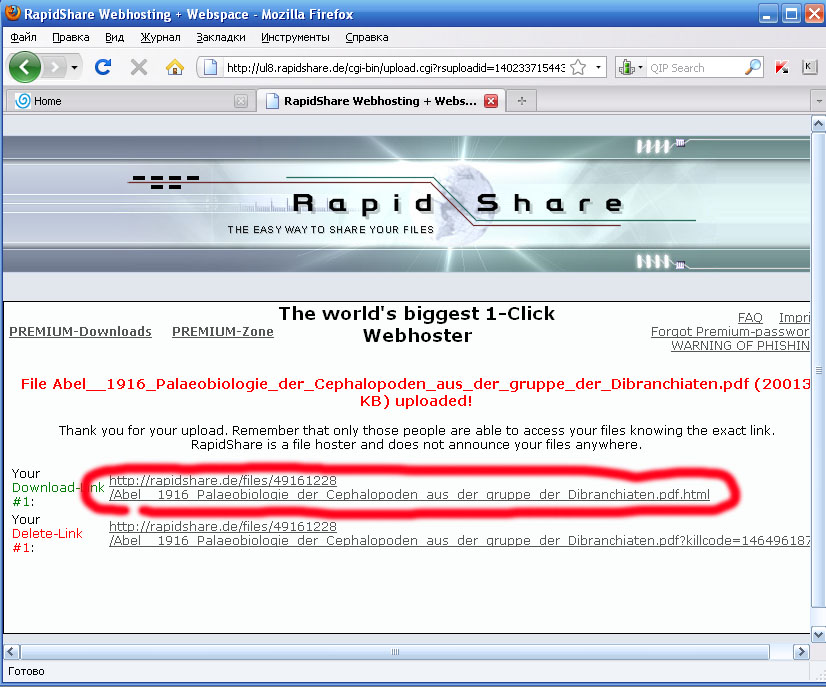 You should copy the download-link to your file, and send it to our Email jurassic.ru@gmail.com. Please, let us know your name for including in this list :) All publications in paleontology, of any quality and in any format are welcomed!
And more, you may take part in developing JURASSIC.RU project by creating your personal page at the site or even to start your own Geological or paleontological project. For detailed information on these possibilities please refer to "People" and "Projects" sections of the site (to the bottom of pages)
---
¹ 2 - PDF by Order
To order PDF-copies of any needed papers or books in paleontology and large-format geological maps!
We have access to any, even most rare books written in Russian and almost impossible to find in Europe, and geological maps of Russian Federation territory. You may order not only Jurassic books (these ones we try to do for free by order), but on any other period. All copies have highest quality and suitable size.
Service

Price
Comments
Book search

Free

Scanning

10 EUR for every 100 pages

OCR

(

optional

)

+2 EUR for every

100 pages

Book contents

(

optional

)

+2 EUR for every

100 pages

Optimizing quality of pages w

ith images (plates and photographs) (

î

ptional

)
5 EUR for the whole book

Scanning of large-format maps and tables in a book (optional)

0.5 EUR for every page
Scanning of large-format (up to 1.5 meters wide) geological maps
10 EUR
for the maps consisting of 1-5 single lists
2 EUR
for every subsequent list
Compilation to

PDF

Free
For ordering books please write us a letter to jurassic.ru@gmail.com with all the references you wish to get, and options of scanning you wish to have. After we find all these references (1 or 2 days), we'll contact you and tell the exact price of your order and provide you with information on payment details.
Minimal order is 10 EUR. Time of execution is 4-5 days after the payment. All the requested PDF-copies are sent to you via Internet.
---
¹ 3 - Donation
Make a DONATION to Jurassic.ru Team and our most active collaborators. We would be grateful for any such support!
To our regrets, PayPal system does not support some basic transactions in our country, so the only way is money transfer by Western Union or Contact systems.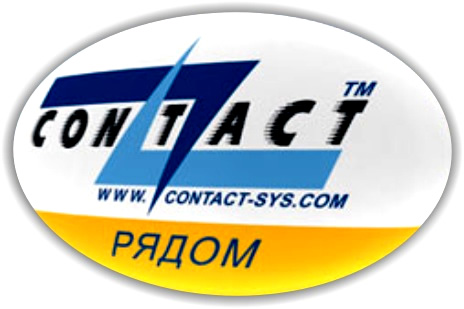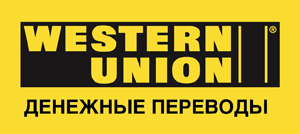 Requisites:
Name: Rogov Mikhail Alekseevich
Location: Moscow, Russia
Bank name and address (for Contact only): Build. 1, 31/2, Pyatnitskaya St., Moscow, CentroCredit Bank
You may find Western Union or Contact departments close to your location at the official web-sites of these systems: http://www.westernunion.com and http://www.contact-sys.com/
After donation, please write us a letter to jurassic.ru@gmail.com with code/number of money transfer, and, also, your name (or organization) for including it you into the list of our support and sponsors :)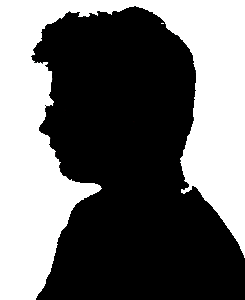 You can send your questions and comments to the webmaster: rogov_m@rambler.ru
Last updated 13.03.2010
© JURASSIC.RU, 2007 → ¥